A Landmark Hotel

In The Heart Of Walla Walla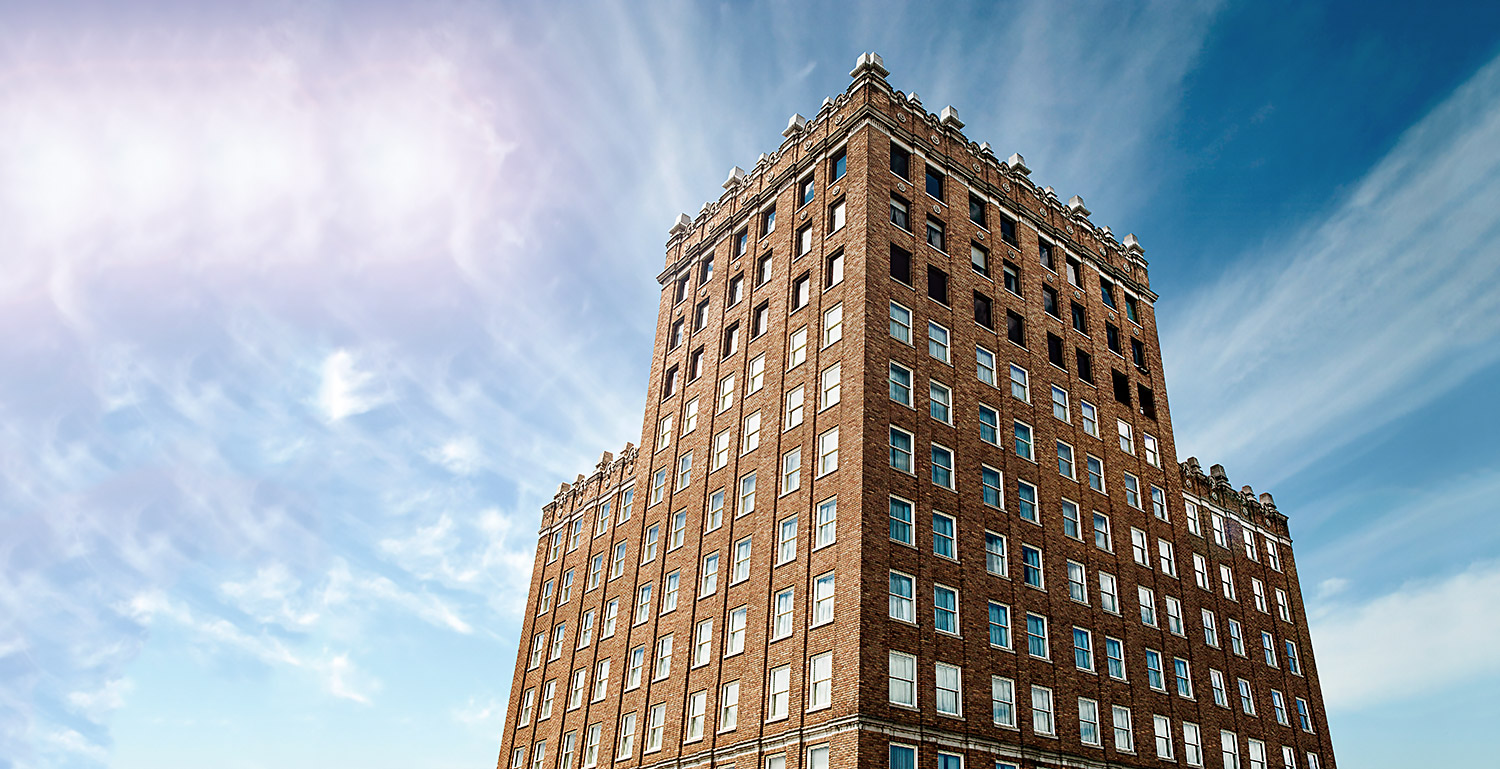 The Best Way To Experience Walla Walla
Whether you're heading to an important meeting in our high-tech conference facilities or playing weekend warrior in the surrounding mountain-and-valley paradise, The Marcus Whitman Hotel is your Walla Walla destination hotel for business proficiency and stunning natural beauty—with generous amounts of historic style, comfort and friendliness to boot.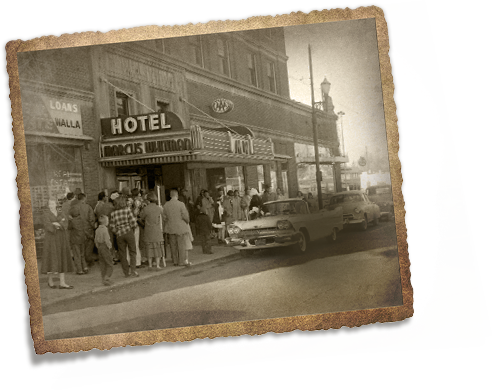 About Marcus Whitman


A Legendary Past

Missionaries Marcus and Narcissa Whitman came to this part of Washington in the 1830s to work with the local Cayuse tribe. They met an untimely death in 1847, but locals refused to let them fall into oblivion. As the little town blossomed, the Whitman name was used on businesses and sites throughout the valley. So, naturally, when a luxury hotel was planned in 1927, it was named for Marcus Whitman.
The finest hotel for hundreds of miles, the Marcus Whitman drew presidents, celebrities and dignitaries with its elegant rooms, friendly service and famous restaurant. A major renovation at the turn of the 21st century touched up its classic style—and added up-to-the-minute technology throughout its storied halls. So today, this grand dame in the heart of Walla Walla's historic downtown continues to celebrate the past—while looking far into the future as well.
Photo Credits: Joe Drazen and Bygone Walla Walla
Learn More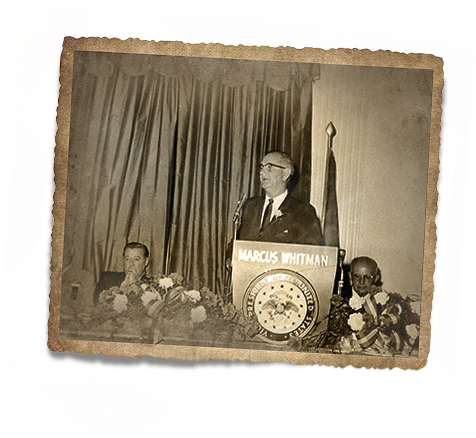 Hotel Amenities
We pride ourselves in offering our guests a uniquely memorable experience filled with extra-special touches.
Complimentary WiFi
Complimentary Hot & Healthy Breakfast
Complimentary Parking
Learn More
In Room & In Suite Amenities
Located in the Historic Tower and West Wing, our 133 guest rooms and suites blend residential style with modern-day comfort and convenience.
Complimentary WiFi
Gilchrist & Soames bath amenities
Dynasty plush beds and premium linens
Learn More
"A grand old hotel, now with an attached convention center and a modern wing (where we stayed). The lobby area is still grand and the service and staff made us feel quite pampered. Breakfast was included in our mid-week package and was an impressive buffet. We were well fortified for a long day of wine tasting."

- ToniMatt

"Great time of the year for a trip to Washington's wine country. The hotel and the downtown area are amazing. You don't have to drive to enjoy many of the wineries which have downtown tasting rooms. Restaurants in the area are also a big part of the draw."

- lmaherwa

"Comfortable rooms , light, bright, and quiet. The staff from the front desk to the restaurant to the room attendants were all friendly and helpful. Location was perfect with tasting rooms within walking distance . Plus free parking and a great hot breakfast buffet which included homemade yogurt."

- kreatopita

"The Marcus Whitman is a beautiful old hotel! The front desk help was great, our room was ready before check-in so they got us right in and the location is perfect with the ability to walk anywhere downtown."

- 450dawn
Specials


Thanksgiving Harvest Buffet

Savor fall's freshest flavors at our 16th Annual Thanksgiving Harvest Buffet. Enjoy traditional holiday favorites like carved roast turkey breast with citrus cranberry sauce and pecan-crusted sweet potato casserole alongside savory platters of artisan charcuterie, smoked salmon and loaded buffalo chili bites. Hungry? We thought so.
Reservations required. Call (509) 524-5139.
Walla Walla


Enjoy Washington's Beautiful Wine Country

Looking to escape city life and enjoy Washington's beautiful Wine Country? The Marcus Whitman Hotel is the perfect spot for a weekend getaway. Explore wineries, visit organic farms, meet artisanal cheese makers and delve into Walla Walla's rich history as a major fur trading post turned viticulture powerhouse.

Learn More
Top Reasons to Stay with Us
Location, Location, Location
It's impossible to beat our heart-of-Walla Walla location. Charming and historic, our thriving and diverse downtown features dozens of eclectic outdoor sculptures tucked amid sidewalk cafes, shops and one-of-a-kind boutiques. Don't miss the Downtown Farmers Market, Saturday mornings from May through October, for famous Walla Walla Sweet Onions, the state's official vegetable.
It All Begins With Breakfast, Our Treat
Our guests are treated to what we honestly believe to be—hands down—one of the country's best breakfasts. The daily buffet includes scrambled eggs, steel-cut oats, house-made sausage, biscuits and gravy, our own bakeshop-produced pastries, our specialty granola and yogurt, coffee roasted especially for us by the Walla Walla Roastery, and more. All for free.
We'll Help You Get Down To Business
Whether you're uploading a large video file for an important business meeting or retreating for the evening with "House of Cards," rest assured your plans will not fizzle due to unreliable connectivity. We offer our guests state-of-the-art, 21st-century technology, including the fastest hotel WiFi out there. All for free.
A Toast To Wine Country
The Marcus Whitman is home to six on-site tasting rooms located just off the hotel's grand lobby. Drop by to savor a sip or two. You'll also find more than a dozen local wines by the glass in our Vineyard Lounge (including two Marcus Whitman signature wines bottle exclusively for us by L'Ecole No 41 Winery) and 2,883 bottles in the cellar and carry 295 different labels
We Think You're A Rock Star
Our staff takes its job seriously, meaning, get ready to be pampered with over-the-top rock star customer service (home-baked cookies in the lobby, anyone?). But don't take our word for it. Let our TripAdvisor reviews fill you in: "The hotel serves everyone with a high dose of class and quality. What a wonderful change from the standard chain hotels." –lawson_env_id
Even Your Pet Is A Treasured Guest
We roll out the red carpet for your four-legged friend, providing pet beds (on request) and a sprawling lawn for a tail-wagging good time playing toss-the-ball. We'll also share our list of fun places to go, including the Walla Walla Dog Park, Bennington Lake and dog-friendly winery tasting rooms.
location


In the Heart of Downtown
Walla Walla Farmer's Market

Children's Museum of Walla Walla

Fort Walla Walla Museum

Whitman College

Carnegie Art Center

Downtown Walla Walla
View Map